The organ at Saint Stanislaus Cathedral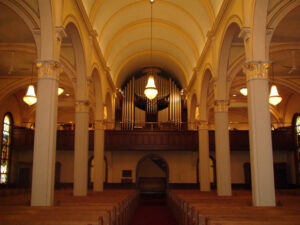 The organ at St. Stanislaus Cathedral was inspired by a movement in France that occurred around the turn of the 20th Century. Between 1850 and 1910, organ music had begun to fall out of favor with the general public. No one was writing music for this instrument and all the great composers such as Bach and Handel had passed away. On top of this, churches were no longer purchasing new organs.
A new idea came about to change the sound of the organ's traditional timbre, or the quality of sound that distinguishes one musical instrument from another, to imitate that of an orchestra.  It was also suggested to include more voices such as strings, concert flutes, trumpets, clarinets, tubas, French and English horns, all of which were voiced to sound more like a live playing instrument.  The addition of strings was one of the most successful contributions made to organ building.  These additions, which included violins, cellos, violas and even double basses, enhanced the warmth and sound of the instrument.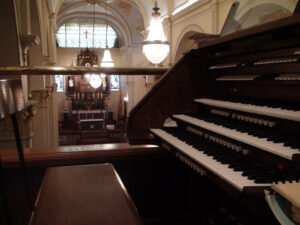 This new type of organ, known as a "Symphonic Organ" inspired new music in the form of orchestral transcriptions, that is troves of famous orchestra and opera works rewritten as organ solos, many of which were famously done by Edwin Lemare. Another development was the birth of the organ symphonies, which, as the name suggests, were entire symphonies written for organ solo. Some of the most famous of these were from the great French organists Widor, Vierne, Franck and Saint-Saens.
Organ Symphony No.1-Final Movement-Louis Vierne: https://www.youtube.com/watch?v=bbIPzGU1YNI
"Ride of the Valkyries" from Die Valkϋre-Wagner-Transcribed E.H. Lemare: https://www.youtube.com/watch?v=DDd6rYKYoB0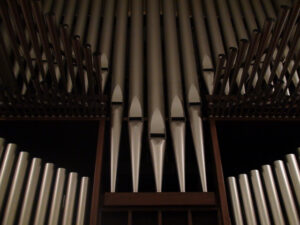 Meanwhile, Austin Organs, Inc., a struggling organ manufacturer founded in 1893 in Hartford, Connecticut, heard of the new, successful organ concept. They travelled to France and brought this concept back to America with their own spin on it.. Subsequently, Austin became one of the most successful organ manufacturers in the world.-of all the many large firms that saw great fame during the golden age of American organ building (c.1890-1938), Austin is the only to survive to the present day.  Our present Austin organ, which consists of 3 manual, has 41 ranks, 45 stops and 2,327 pipes, is a direct descendant of the creativity that developed in France at the turn of the 20th Century.  That organ sound lives on to this day.
Austin Organs, Inc., well established and in its second century of pipe organ manufacturing, continues to innovate, inspire and create instruments that endure the test of time.  Quoting a byline from their Centennial Celebration, we remain; "Proud of Our Past and Focused on the Future".
Cathedral Choir & Organ History Timeline
Leo Makowski became organist. Organ purchased for $75.00.
Pipe organ purchased for $800.00.
Bp. Hodur presented a candidate for the position of church organist, Adam Pikulski. He was unanimously accepted.
A new organ was installed and blessed. It was purchased primarily through funds raised by the Chopin and Kalina Choirs.
Professor Adam Pikulski, who served more than 50 years as parish organist, passed away.
National United Choirs present an anniversary concert at the Masonic Temple. 300 singers participated.
It is announced that the parish is in need of a new organ. A small electronic organ will be purchased until a proper instrument can be designed and paid. The proceeds of the estates of Lillian Sankiewicx and Helen Palka are received, totaling $11,000.
A bronze plaque honoring Professor Adam Pikulski is placed in the Cathedral.
A new organ Ways and Means Committee is organized. An appropriate instrument will cost approximately $150,000. Final cost of the project will be in excess of $225,000.
The organ committee reports pledges in the amount of $106,000.
Contracts signed for the new Austin organ.
The new Austin pipe organ is blessed, followed by dedicatory organ and chorale concert. The new organ instrument consists of 3 manual. It has 41 ranks, 45 stops and 2,327 pipes. It is custom designed and built to meet the acoustical and musical needs of the parish. Final cost exceeds $270,000.